Click on burgee for club web site
Canandaigua Yacht Club is a member owned full service sailing club located at the north west end of Canandaigua lake. The club dates back to the mid 1930's and is located in an old mansion that sits prominently on top of a hill in the middle of 12+ acres overlooking the lake. The clubhouse is the venue for fine dining, many parties and many light suppers in the clubhouse after a day on the water.
.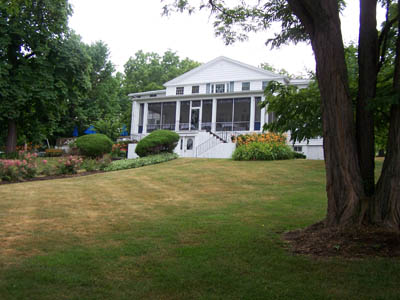 CYC has an excellent campground with 24/7 shower facilities for its members and regatta guests. may of the club members spend several days of summer camped at "their cottage at the Lake".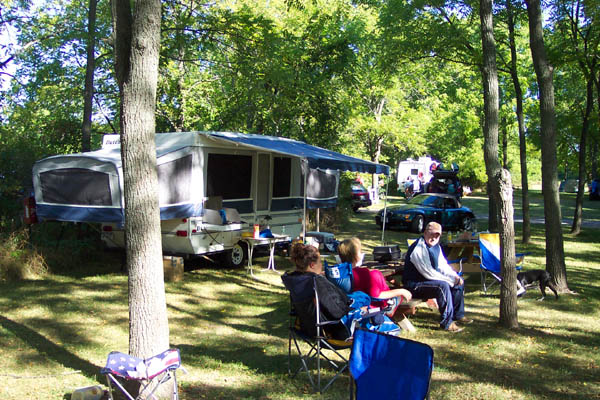 The waterfront area has a launch ramp for trailer launching, a dinghy ramp, 2 electric hoists with one capable of 3 tons. There are 3 floating docks and one permanent concrete dock. In addition there is a picnic area with a sandy beach.
Club racing begins at the beginning of May with the J24 J-Daze Regatta and concludes in the middle of October with the Around the Lake race. In between there is Wednesday night GO (Genoa only) racing, Thursday night Sunfish and the traditional Sunday club racing. Holidays are club handicap days that the entire lake participates in. The courses are longer than the traditional course racing providing everyone with an opportunity to enjoy the beauty of the lake.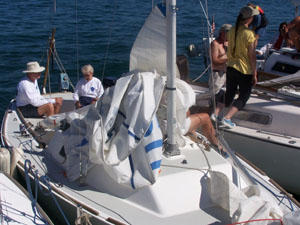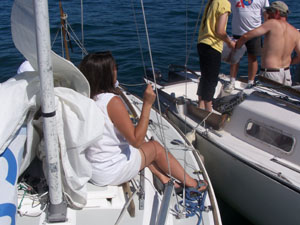 Decades ago the club was primarily a centerboard club with large fleets of Flying Dutchman, Thistles, Day Sailors, C Scows, Stars, and Shark catamarans, plus some moored boats like Catalina's. Like many other clubs, the centerboards gave way to keel boats starting with the Ensign. The late seventies brought the J-24 and the fleet is very strong and successful today. The mid eighties brought the J-22 and several of the boats in the fleet still belong to their original owners.
The J-22 is considered by many to be the perfect boat for Canandaigua Lake. Its maneuverability makes it handle around the course like a dinghy and its size makes it perfect for a 14 mile long lake. She is easily dry sailed and unlike many small keel boats, it's very trailable. Three people sail it well and on GO fleet nights, it is the perfect couples boat. J-22 Fleet 24 is seeing a resurgence with 3 new boats added in the last two years and several others in process. In addition to the Sunday program, holiday handicaps, special events like Hospice, Fleet 24 is an active participant in the GO program.